September 12, 2014
by Kathy Brous
Is Our Medical System Traumatizing Us?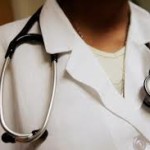 Hey, it happens to us all. I'm healthy as a horse, but a body part was bugging me, so at my annual check up I asked to see a specialist.  I love my family doc, er, I mean "primary care," and I love this specialist.  They're the best there is.  And they're victims of the system as much as we.  I'm grateful they're here just when I need them, with all their years of training and miraculous skills. I don't want to cause them trouble, so let's call it "body part X."
It took months to get authorization for the specialist, thanks to insurance lunacy. Meanwhile X got worse, but still I expected just a routine new prescription.
The new doc walked in, took one look, and said, "You've got [deleted] here, and also there. You can go on like that for a while, and  I could just write you another prescription for Y [as it's been handled before].  But you'll be back in a year because it will get worse.  It's not for me to tell you what to do, but we can replace [body part X] with an implant…
"Outpatient surgery takes 20 minutes, insurance pays for it all because it's legally classified as  'medically necessary' since otherwise you're going to lose your Z [essential function]. Then you can forget about the problem, you'll be done."  (And no, it wasn't prostate cancer.)
"Outpatient surgery"?  So professional.  Me?  I've just been told, "you're getting a knife in a real scary place."
The specialist (I do like him) told me later that at that first meeting, he then proceeded to outline my options for the different available types of inplants, and following surgery, what functional abilities each implant type would give me. I was with him less than 20 minutes. Next he sent me on to his medical assistant to be checked by one more machine, who sent me to their lady "surgery coordinator."  By which time I was hit by a barrage of panic from my belly.
Read More
---